Wasps
Wasps can be beneficial insects as they kill an enormous number of other 'pests' e.g. flies, caterpillars etc. Due to their high-energy needs, wasps also feed on nectar from a variety of flowers and are important pollinators in gardens and orchards.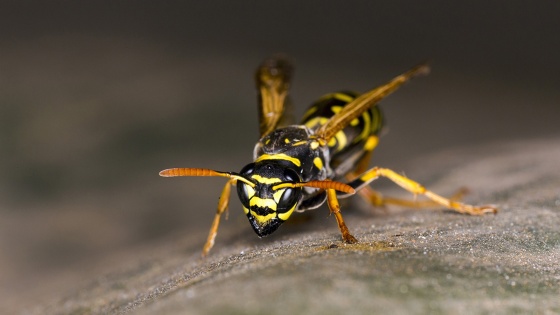 They do act as a pest. When gathering woody material for nest-building, they can chew and damage the timbers of both fences and buildings. They strip the bark of trees causing die-back of branches and young shoots and in late summer they can do significant damage to fruit crops.
When wasps nest in high traffic areas or near homes they can become a nuisance and about 3-5 % of people can have a potentially dangerous reaction to stings.
Common Wasp
| | |
| --- | --- |
| Latin name: | Vespula vulgaris |
| Length: | Approx. 10 – 20 mm long at adult stage. |
| Colour & description: | Distinctive black and yellow coloration. Noticeable narrow waist between thorax and abdomen. Very similar to the German Wasp but lacks the 3 distinctive dots at the front of the head. |
| Habits & habitat: | Social insects which form colonies inside nests upto about 30cm across. Commonly found in roof spaces or within cavities in walls or trees. Forage on a wide range of foods including flying insects, nectar and other sweet foodstuffs. |
| Life cycle: | Approx. 6 weeks. |
| Reproduction rate: | Complete metamorphosis, egg – larva – pupa – adult. Eggs hatch within a few days and the larvae develop over a period of about 4 weeks. The larvae spin silken cocoons and the pupae develop into adults within 2 weeks. Colonies tend to surive only one year but may contain several thousand individuals by the end of summer. |
German Wasp
| | |
| --- | --- |
| Latin name: | Vespula germanica |
| Length: | Approx. 10 – 20mm long at adult stage. |
| Colour & description: | Distinctive black and yellow coloration. Noticeable narrow waist between thorax and abdomen. Very similar to the Common Wasp but has the 3 distinctive dots at the front of the head. |
| Habits & habitat: | Social insects which form colonies inside nests upto about 30 cm across. Commonly found in roof spaces or within cavities in walls or trees. Forage on a wide range of foods including flying insects, nectar and other sweet foodstuffs. |
| Life cycle: | Approx 6 weeks. |
| Reproduction rate: | Undergo complete metamorphosis, egg – larva – pupa – adult. Eggs hatch within a few days and the larvae develop over a period of about 4 weeks. The larvae spin silken cocoons and the pupae develop into adults within 2 weeks. Colonies tend to surive only one year but may contain several thousand individuals by the end of summer. |
Top