Selontra®
Selontra® rodent bait delivers real efficiency for your business.
Benefits
Selontra® rodent bait offers major advantages
Can control up to 100% of rodents in as few as 7 days
Controls up to three times faster than anticoagulant rodenticides
Controls rats and mice, even species highly resistant to anticoagulant rodenticides
Provides effective rodent control with as few as two applications
Active ingredient, cholecalciferol, is a naturally occurring substance
Its unique stop-feed effect prevents rodents from over-consuming and wasting bait
Reduced environmental impact
Unique mode of action makes development of resistance highly unlikely
Why Selontra®?
Ready-to-use and securable block bait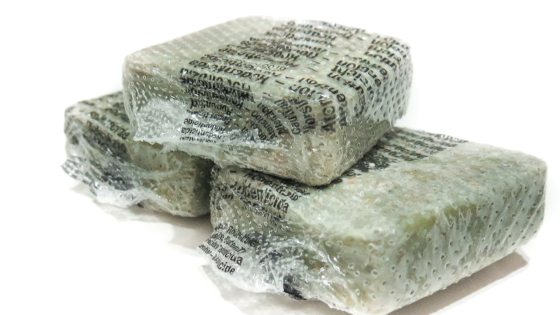 20 g pale-green soft block bait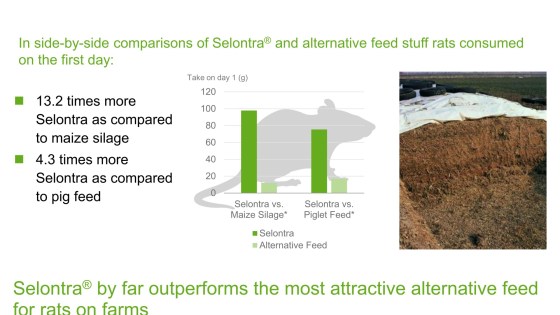 Extremely palatable formulationExtremely palatable formulation
Effective even where highly attractive food sources are available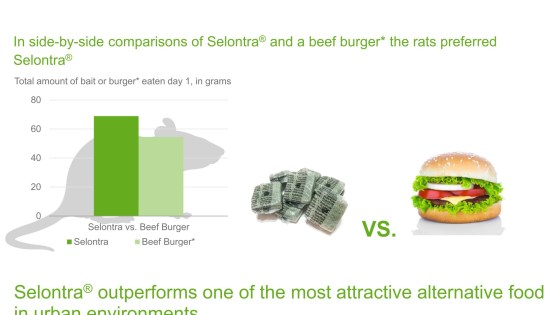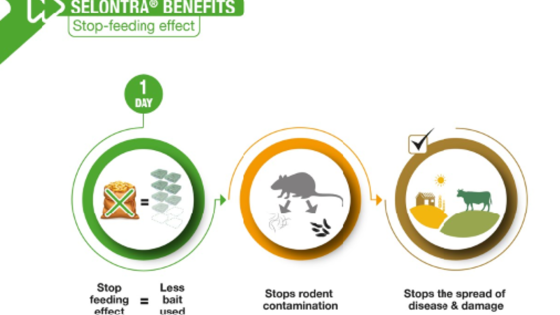 Not an anticoagulant
Mode of action: the active substance in Selontra® is cholecalciferol, which has a different mode of action to anticoagulants. Rodents stop feeding within the first day after consuming a lethal dose of Selontra®
Advantages for you
Pest Control Operators
With Selontra® it is possible to control rodent infestations in as few as 7 days, up to 3-times faster than with anticoagulants. Therefore, Selontra® is your best choice for all situations, where each day counts:
Highly automated industrial production plants
Food processing -storage and retail-
Restaurants, cafes, and hotels
Schools, Kindergartens, Residential areas, hospitals and other sensitive situations
Your customers will be very satisfied when you control the rodents much quicker than before.
Selontra® can reduce the number of visits/inspections needed to control a rodent infestation, reducing treatment costs significantly and saving you time.
When you are dealing with sites that have a high risk of re-invasion and when other methods of control have proven insufficient , Selontra® can be used in a permanent baiting strategy, if permitted in your country.
Farmers
Protecting the biosecurity on your livestock farm is a key requirement and farm processes may leave only a small-time window for rodent treatment, e.g. in between flocks.
For stored harvest: when there is rodent invasion, post-harvest protection is an urgent requirement.
With Selontra®, rodents will then also stop contaminating and consuming your harvest much quicker.
Selontra® stops the waste of resources (bait and harvest/food which rodents consume/contaminate on your farm).
Businesses benefiting from Selontra® rodent control:
Industrial production plants (high tech production sites, IT hardware, pharmaceutical and biotechnological production). By gnawing on electrical cables, rodents can cause shortages and shut down entire production lines. For your plant, fast rodent control is at the essence.
Restaurants, cafes, hotels and food processing (storage and retail).
The food you are storing, preparing and even the waste are attractive food sources for rats and mice. These rodents threaten to contaminate your premises. Protect the reputation of your business with quicker and efficient rodent control.
Schools, kindergardens, hospitals, residential areas.
Thrown-away food is an attractive food source for rats and mice. That is why rodents are often found in and around buildings and facilities. Your school, kindergarten, hospital or residential area requires scrutiny by your pest control service provider. Whenever you detect rodent activity, you need a fast solution.
Available in retail stores